I've been working at my job for almost five years now (four

Passovers

). Being one of very few Jews, and possibly the only one in a large office (over 60, but at one point was close to 100) who is a practicing Jew, I definitely stood out. This was the complete opposite of what I was used to as a child. Growing up in South Florida meant that being Jewish was so common that public schools were closed in observance of Jewish holidays.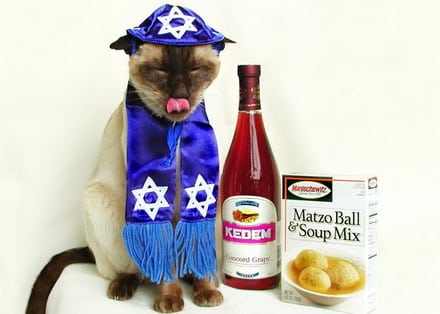 Every Spring, when the dreaded holiday of eight days worth of constipation rolls around my coworkers seem to get a bit excited. Why, might you ask? Well, the first Passover at my company I introduced my coworkers to a number of different types of Passover Jew food. I bring in noodle

kugel

,

matzoh ball

soup and brisket (I even had a few brave souls try chopped liver, but I have stopped bringing this dish in because I got weird looks since it doesn't come off as appetizing as it tastes).
I can remember the first Passover lunch where I was surrounded by a number of coworkers in the break room as they watched me make my matzoh pizza and questioned what the significance of this holiday was. Luckily,

Temple Beth Am

gave me a pretty good Hebrew school education. I shared the Cliff's Notes version of the story of Passover and then explained what I could not eat for eight whole days. Of course I loved being the center of attention. But what really made me feel good was that my coworkers were interested in my religion and curious about the practicing and significance of the holiday.

Modern day Passover visual

I had eyes of puzzlement staring at my noodle kugel, which was the main attraction. After a brief explanation of what ingredients go into making such a dish, I told them that I would bring in some extra portions for them to taste. Since their first try, I have now gotten requests for my noodle kugel each year. I also have a coworker who loves the last day of Passover because that means that he gets my extra matzoh, pasta sauce and cheese so he can enjoy matzoh pizza for a few days himself (and no, he is not Jewish).
Matzoh pizza - it's what's for lunch, everyday
This year I had an personal request for noodle kugel the day before the holiday started. The conversation went something like this:
Me: I have to rush home after work so I can get up to the burbs to my in-laws house for Passover sedar.
Coworker: Is this the holiday where you can't eat bread and make that really good noodle dish?
Me: Yep!
Coworker: Can you please bring me some?
Me: Of course!

Noodle Kugel

I also posted on Facebook that I was making my traditional noodle kugel dish. Here is what the status and responses looked like:

Four of the five "Likes" were from coworkers.

So maybe I am not the popular one, but rather it's my noodle kugel. Well, for those wondering how you can get your hands on this delicious dish, here is the
noodle kugel recipe
. Enjoy!